Download Naruto Storm 5 Mugen Android [375B]
Game
Thể loại
Naruto Storm 5 Mugen Android
Channel: Đức Nguyễn Channel

Game: Android(APK)
Size: 375MB
Hello gamers, today I am back again with the amazing ANIME MUGEN game called Naruto Storm 5 Mugen Apk for Android. This is a real Mugen game that you can play on Android without any problem but there are some system requirements to play on Android. Friends if you want to know about the requirements and the game, so stay with us until the end of this post.
Naruto Mugen Apk Storm 5
Naruto Mugen Apk Storm 5 Android game with 2D graphics along with a beautiful set of Skill effects, with many characters will bring you many great experiences. With attractive fighting gameplay, it gives players the feeling of being immersed in exciting matches like real ninjas fighting hard.
Play mode
Team Play Mode: In team mode you will see ARCADE and CPU Battle Mod. Choose 3 characters and create your team then start playing team mode. Arcade game you will see one battle at a time and in CPU Battle Mod you can only do one battle.
Single Play Mode: In this mode, select 3 characters in your team and your opponent team then the battle begins. Here you can fight between your favorite team against your other favorite team.
Training: This is the same as the team mode. You will also see arcade and vs cpu battle mod. But here you can only select 1 character and do a 1 vs 1 battle.
Option: Set screen size, game volume, game buttons, graphics settings in preferences.
Credits: Check out all the credits of the creator who made this game in the credits.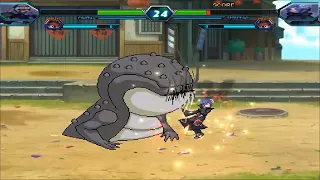 Download Naruto Mugen Apk Storm 5
How to download the game: downloading the game is very simple, you just need to go to the download link below, then download the game. Then install the apk file to play the game.
This is the APK game file so you just need to download and install and open it.
Link Download game: There are many versions here for you. I will constantly update
Naruto Storm 5 Mugen Android~375MB – Download
Video Download Naruto Storm 5 Mugen Android [1,26GB]
Jump Force Mugen Apk Gameplay
Mugen's game is awesome because every combo and attack effect is so cool like anime. If you want to play Power Full Action Fight between your favorite characters, then Mugen is the best game. You can easily control and play this game because everything you do is just one button. Handle, down and left then click an upper button so you will see 3 super attacks of each character. Click jo and u multiple times for combos. You can also make the game in training mode.
Hope you download the game successfully and have moments of fun playing the game!!!